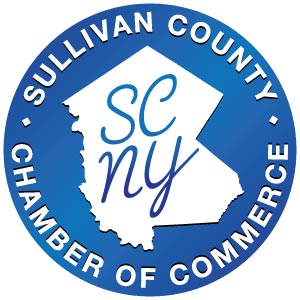 196 Bridgeville Road, Suite 7,
Monticello, NY 12701
Ph. 845-791-4200
Fax. 845-791-4220
---
Privacy Notice:
---
We collect information from you when you join the Sullivan County Chamber of Commerce, register for an event or pay for dues or event registration on our site. We may use this information to respond to you regarding the reason you contacted us. Members may also be notified about programs, events or services in which the Sullivan County Chamber of Commerce believes they may have an interest.
Membership lists containing main contact information, address and phone numbers are available for members only. We will also share your business information in the form of professional referrals.
Wherever we collect sensitive information such as credit card data, that information is encrypted and transmitted to us in a secure manner. You can verify this by looking for "https" at the beginning of the address of the web page. We do NOT store this data – it is used for a payment method ONLY.
If you would like to OPT-OUT of our Chamber Member benefit services at any time – please contact our office at 845-791-4200 or email president@catskills.com.